Adani Renewable Energy Park Rajasthan Ltd (AREPRL) is a 50:50 Joint Venture Company (JVC) incorporated by Adani Renewable Energy Park Ltd (AREPL) and Rajasthan Renewable Energy Corporation Ltd (RRECL), Government of Rajasthan, under the Companies Act, 2013. The JVC has been formed under the provisions of the MNRE Scheme for development of solar parks and UMPPs 2014, wherein both the parties hold equal shareholding.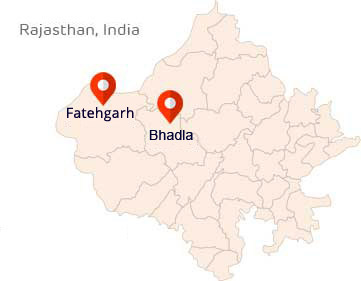 A MoU has been signed with RRECL, the Government of Rajasthan's nodal agency for the development of non-conventional energy sources, to develop solar parks with a cumulative capacity of 10,000 MW in a phased manner. As part of the first phase Adani Renewable Energy Park Rajasthan Ltd (AREPRL) is developing a 500 MW capacity solar park in Bhadla, Jodhpur and 1,500 MW capacity solar park in Fatehgarh, Jaisalmer.
About Adani Group
Adani Group is India's leading infrastructure conglomerate, the US$ 12 bn Group enjoys significant interests across resources (coal mining and trading), logistics (ports and logistics, shipping and rail), energy (power generation and transmission) and ancillary industries. Through these businesses, the Adani Group is integrated to the core of the world's largest democracy, touching millions of lives.
The commitment for investment in Solar Parks is a key part of Adani Group's vision with an ambition to become a 10,000 MW player by 2022. The Group forayed in the field of Renewable Energy through its 40 MW Solar Power Plant at Kutch, Gujarat and also boasts of commissioning one of the world's largest single location grid connected solar plant of 648 MW capacity at Kamuthi, Tamil Nadu.
About Rajasthan Renewable Energy Corporation Ltd
Rajasthan Renewable Energy Corporation Ltd (RRECL) had been formed by merging erstwhile Rajasthan Energy Development Agency (REDA) and the Rajasthan State Power Corporation Ltd (RSPCL) in August 2002. The corporation is registered under Companies Act 1956.
RRECL is the State Nodal Agency for promoting and developing non-conventional energy sources in the state and the State Designated Agency (SDA) for enforcement of provisions of the Energy Conservation Act 2001.
This agency co-ordinates the programme activities between various functions on non-conventional energy sources and the society. It is also engaged in creating awareness among people about conservation of energy and protection of environment through demonstration projects and other methods.
Values
Courage
We shall embrace new ideas and businesses
Trust
We shall believe in our employees and other stakeholders
Commitment
We shall stand by our promises and adhere to high standards of business
Culture
Passion
Performing with enthusiasm and energy
Results
Consistently achieving goals
Integration
Working across functions and businesses to create synergies
Dedication
Working with commitment in the pursuit of our aims
Entrepreneurship
Seizing new opportunities with initiative